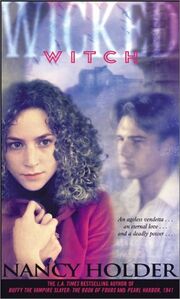 Wicked series by Nancy Holder and Debbie Viguie
Genres and Sub-Genres
Edit
Young Adult / Urban Fantasy
Series Description or Overview
Edit
Holly Cathers's world shatters when her parents are killed in a terrible accident. Wrenched from her home in San Francisco, she is sent to Seattle to live with her relatives, Aunt Marie-Claire and her twin cousins, Amanda and Nicole.
In her new home, Holly's sorrow and grief soon give way to bewilderment at the strange incidents going on around her. Such as how any wish she whispers to her cat seems to come true. Or the way a friend is injured after a freak attack from a vicious falcon. And there's the undeniable, magnetic attraction to a boy Holly barely knows.
Holly, Amanda, and Nicole are about to be launced into a dark legacy of witches, secrets, and alliances, where ancient magics yield dangerous results. The girls will assume their roles in an intergenerational feud beyond their wildest imaginations...and in doing so, will attempt to fulfill their shared destiny. ~ Goodreads | Wicked: Witch & Curse (Wicked, #1-2) by Nancy Holder
Lead's Species
Edit
Witch, Warlocks
Primary Supernatural
Edit
Witches, Warlocks
What Sets it Apart
Edit
Narrative Type and Narrators
Edit
Books in Series
Edit
Wicked series:  (with Debbie Viguié) 
Witch (2002)
Curse (2003) 
Legacy (2003)
Spellbound (2003)
Resurrection (2009) 
Shorts, Novellas, Anthologies and Guides
Edit
World Building
Edit
Places:
Supernatural Elements Edit
✥ Witches, warlock,
Glossary: Edit
Groups & Organizations:Edit
Protagonist
Edit
Sidekick
Edit
Name: / What: / Sidekick-to: / About: / Book First Seen In:
Characters Chart
Edit
| Characters | What | About |
| --- | --- | --- |
| Holly Cathers | Witch | Main character, descendant of Isabeau Cahors, who can possess her, daughter of Daniel and Elise Cathers, head of Cathers/Anderson Coven; She is in love Jer Deveraux. She lost her parents in a boat accident, as well as her best friend, Tina Davis-Chin. |
| Amanda Anderson | Witch | Holly's cousin, Nicole's twin sister. She's Holly's closest ally in the fight against Michael Deveraux. She is part of the Cathers/Anderson Coven. She was described as being mousy in the beginning, but has gained confidence. She is however, most like her father, Richard. |
| Nicole Anderson | Witch | Holly's cousin, Amanda's twin sister, her mother's favorite. She is afraid of magic. She is dating Eli Deveraux, against her parents' wishes. She is shallow, selfish, and a lover of theatre. She is like her mother, Marie-Claire. |
| Jeraud "Jer" Deveraux | Warlock | A warlock, Eli's younger brother, who hates what his family does. He's dating Kari Hardwicke, but is in love with Holly. He is the descendant of Jean Deveraux, who can possess him. He abandons his family, and joins his friends, Kialish and Eddie, to form a new coven (The Rebel Coven), along with Kari. He is nearly killed by the Black Fire at the end of Witch, and is locked up in Avalon during Curse. |
| Elias "Eli" Deveraux | Warlock | A warlock, evil and following in his father's footsteps. He's the elder brother of Jer. He dated Nicole Anderson, for his father, to try to create the magic of combing Deveraux and Cahors magic. He does care about her, trying to convince his ancestor, Laurent, not to kill her. |
| Michael Deveraux | Warlock | Main antagonist, a warlock. Father of Elias and Jeraud. Laurent's descendant. He is trying to kill all the remaining Cahors (Cathers) for Laurent, in exchange for the secret of the Black Fire. He was the lover of Marie-Claire, before killing her. |
| Isabeau Cahors | Witch | Heir of the House of Cahors, wife of Jean, daughter of Catherine, loves Jean, but betrays him when his family doesn't share the Black Fire with them, under her mother's orders. She makes a pact with the Goddess to save him. She was killed with the Black Fire. She can possess Holly. |
| Jean Deveraux | Warlock | Heir of the House of Deveraux, husband of Isabeau, son of Laurent, loves Isabeau and hates her. She is his sworn enemy, but he wants revenge on her for her betrayal, so insists Jer, who he can possess, to kill her, through Holly. |
| Eddie Hinook | Shaman | Kialish's lover, Jer's friend, in Rebel Coven |
| Kialish Carter | Shaman | Native American Shaman, Eddie's lover, Jer's friend, Dan's son, in Rebel Coven |
| Tommy Nagai | Human, witch practitioner | Amanda's best friend, who is in love with her, helps them out, in Cathers/Anderson Coven |
| Kari Hardwicke | Human, witch practitioner | Jer's girlfriend, a grad student interested in witchcraft, uses Jer for information and sex, but does generally care about him, in the Rebel Coven. |
| Marie-Claire Cathers-Anderson | Witch, dormant | Holly's apparent aunt, Daniel's sister, mother of Amanda and Nicole, her favorite. She is cheating on her husband, Richard, with Michael Deveraux. |
| Richard Anderson | Human | Holly's uncle, Marie-Claire's husband, father of Amanda and Nicole. |
| Laurent Deveraux | Warlock | Former ruler of Deveraux Castle, was killed by Black Fire. He wants to kill all Cahors, he is helping Michael. He is Jean's father. |
| Tante Cecile Beaufere | Voodoo Practitioner | Amanda's friend, who practices Voodoo, from New Orleans. She helps the Cathers/Anderson Coven |
| Silvana Beaufere | Voodoo Practitioner | Cecile's daughter, Amanda's friend |
| Daniel Cathers | Witch? Possibly | Husband of Elise, brother of Marie-Claire, father of Holly Cathers. Died in raft accident at Grand Canyon. Might have known about his legacy as a Cahors witch. |
| Elise Cathers | Human | Wife of Daniel, mother of Holly Cathers. Also died in the raft accident. |
| Tina Davis-Chin | Human | Holly's best friend, dies in the raft accident |
| Barabara Davis-Chin | Human | Tina's mother, Michael gives her an unknown magical illness so Holly has to live her aunt, not Barbara |
To expand the table, right-press on a row of the table or (Control-press on a Mac)—choose add row.
Genres: YA, Urban Fantasy, PNR, Books made from TV shows 
Bio: Nancy Holder lives in San Diego with her husband Wayne and young daughter Belle. She is a four-time Bram Stoker award winner for her work in supernatural fiction. ~ Nancy Holder-FF
Cover Artist
Edit
Artist: Kamil Vojnar
— source: (Kamil Vojnar - Summary Bibliography) (ISFdb source )
Publishing Information
Edit
Book Cover Blurbs
Edit
✤ BOOK ONE—:

✤ BOOK TWO—:

✤ BOOK THREE—:

✤ BOOK FOUR—:
First Sentences
Edit
Read Alikes (suggestions)
Edit
— If you like these, you may like this:
See Also
Edit
See Category links at bottom of page
External References
Edit
Books:
World, Characters, etc:
Reviews:

Interviews:
Artist:
Author:
Community, Blogs, etc:
Gallery of Book Covers
Edit
Ad blocker interference detected!
Wikia is a free-to-use site that makes money from advertising. We have a modified experience for viewers using ad blockers

Wikia is not accessible if you've made further modifications. Remove the custom ad blocker rule(s) and the page will load as expected.