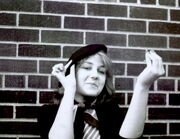 Tate Hallaway — Author 
Other Names
Edit
Tate Hallaway
Bio: A Scorpio with a Leo Rising, Tate Hallaway is an amateur astrologer and practicing Witch. Tate has been a fan of vampire fiction since she first read Poppy Z. Brite in high school. Her first short fiction acceptance was to a vampire 'zine called Nocturnal Ecstasy Vampire Coven. Tate lives in Saint Paul, Minnesota with three black cats. TALL, DARK, AND DEAD is Tate's first novel. ~ Tate Hallaway.Bio
Urban Fantasy / Chick-Lit PNR / Vampire-Humor / Romance
Writing Style
Edit
Other Pen Names:
Edit
Lyda Morehouse (ISFdb)
| Series Title | Genre | Supernatural Elements |
| --- | --- | --- |
| Precinct 13 (Stand Alone for now) | UF | Faeries, psychometrists, vampire-werewolf hybrid, trolls, gargoyles, demon |
| Vampire Princess of St. Paul (3 books) | YA-UF | Vampires, witches, vampire hunter |
| Garnet Lacey (6 books) | Chick-Lit PNR / Vamp-Humor-Rom | Vampires, Goddess, witches, Vatican witch hunters |
| Archangel Protocol (2001-4) | UF? | Angels (written as Lyda Morehouse) |
To expand the table, right-press on a row of the table or (Control-press on a Mac)—choose add row.
Other Writings
Edit
Anthologies:
Freebies:
Cover Artists
Edit
Artist: Blake Morrow — Precinct 13
Publishing Information
Edit
Publishers:
"NOTHING goes exactly as planned.Make your OWN destiny" ― Tate Hallaway, Almost to Die For
"Let me get this straight. I can't take the vampire with me because if I remove the stake, he can kill us all. Now I can't take the girl because she's what? some kind of ninja witch?" ― Tate Hallaway, Tall, Dark & Dead
See Also
Edit
External References
Edit
Bibliography / Books:
Series Pages:
Interviews:
Author:
Other Name: 
Community, Blogs, etc:
Ad blocker interference detected!
Wikia is a free-to-use site that makes money from advertising. We have a modified experience for viewers using ad blockers

Wikia is not accessible if you've made further modifications. Remove the custom ad blocker rule(s) and the page will load as expected.