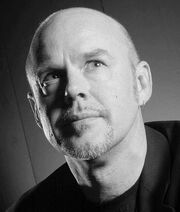 Tad Williams — author of Bobby Dollar series. 
About the Author
Edit
Tad Williams has held more jobs than any sane person should admit to - singing in a band, selling shoes, managing a financial institution, throwing newspapers and designing military manuals, to name just a few. He also hosted a syndicated radio show for ten years, worked in theatre and television production, taught both grade-school and college classes, and worked in multimedia for a major computer firm. He is co-founder of an interactive television company, and is currently writing comic books and film and television scripts as well. Tad and his family live in London and the San Francisco Bay Area. ~ Tad Williams
| Series Title | Sub Genre | Supernatural Elements |
| --- | --- | --- |
| Bobby Dollar series | Noir-UF | Angels, demons, souls, Heaven, Hell, she-demon, soul-sucker, Babylonian demon, demon soldiers, hellhounds, Sumerian creature, were-pig |
| | | |
| | | |
To expand the table, in Edit–Visual mode, right-press on a Row of the table or Column (Control-press on a Mac)—choose add Row or Column.
Genre Key: UF=Urban Fantasy,  Noir-UF=Noir Urban Fantasy, YA-UF=Young Adult Urban Fantasy, UF-SF=Urban Fantasy/Sci-Fi, UF-Hor=Urban Fantasy-Horror, PA-UF=Post-Apocalyptic-UF, Dys-UF=Dystopian Urban Fantasy, Mil-UF=Military-Urban Fantasy, SP=Steam Punk, PNR=Paranormal Romance
Other Writings
Edit
Anthologies:
External References
Edit
Bibliographies:
Interviews:
Author:
Community:
Gallery of Book Covers
Edit

•