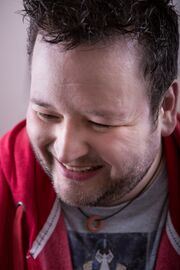 Steve McHugh
— Author 
About the Author
Edit
Steve's been writing from an early age, his first completed story was done in an English lesson. Unfortunately, after the teacher read it, he had to have a chat with the head of the year about the violent content and bad language. The follow up 'One boy and his frog' was less concerning to his teachers and got him an A.
It wasn't for another decade that he would start work on a full length novel, the results of which will be published early 2012.
He was born in a small village called Mexbrough, South Yorkshire, but now lives with his wife and three young daughters in Southampton. Goodreads | Steve McHugh
Urban Fantasy . . .
Writing Style
Edit
| Series Title | Genre | Supernatural Elements |
| --- | --- | --- |
| Hellequin Chronicles series | UF | Sorcerers, Gods, werewolves, werelions, alchemists, Merlin, necromancers, gargoyles, Greak & Roman gods, Norse Gods, Greek Mythology, Voodoo, Voodoo Queen,  |
| | | |
| | | |
To expand the table, in Edit–Visual mode, right-press on a Row of the table or Column (Control-press on a Mac)—choose add Row or Column.
Genre Key: '''UF'''=Urban Fantasy,  '''Noir-UF'''=Noir Urban Fantasy, '''UF-SciFi'''=Urban Fantasy/Sci-Fi, '''UF-Hor'''=Urban Fantasy-Horror, '''PA-UF'''=Post-Apocalyptic-UF
Other Writings
Edit
Anthologies:
Cover Artists & Contributors
Edit
not listed
Publishing Information
Edit
Publishers:
See Also
Edit
See Category links at bottom of page
External References
Edit
Author Bibliography / Books:
Series Pages:
Freebies & Excerpts:
World, Characters, etc:
Reviews: 
Interviews: 
Articles:
Author, Misc:
Community and Fan Sites:
Gallery of Book Covers
Edit
Ad blocker interference detected!
Wikia is a free-to-use site that makes money from advertising. We have a modified experience for viewers using ad blockers

Wikia is not accessible if you've made further modifications. Remove the custom ad blocker rule(s) and the page will load as expected.