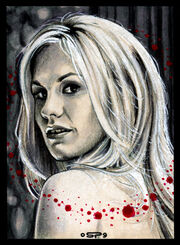 Sookie Stackhouse — Character 
Book or Series
Edit
The series is commonly called the Sookie Stackhouse series—the original title is The Southern Vampire Mysteries series. The series author is Charlaine Harris.
About the Character
Edit
General One-line Descripton of who the character is
Sookie is a telepathic waitress who lives in a small town in Louisiana. We first meet her at a time when Vampires have revealed to the world their existance.
Profession:Edit
Waitress
Human, mostly, there is a reveal later on in the series around book four. 
Abilities: Edit
Telepathy—Sookie can hear the thoughts of people, human people. Shapeshifters come in muddles only being able to catch a part thought here and there. Vampres not at all accept extremely rarely. Sookie finds this very soothing and therefore enjoys the company of vampires—some vampires—many are very dangerous.
Character / Personality: Edit
Physical Descripton: Edit
Connections
Edit
| | Name  | Notes |
| --- | --- | --- |
| Parents:  | | |
| Grandparents:  | Adelle Stackhouse | |
| Siblings: | | |
| Friends: | Tara, Sam,  | |
| Lovers: | | |
| Spouses / Mates: | | |
| Boss(es): | Sam Merlotte | |
| Co-workers: | | |
| Enemies: | | |
| Other Love interests: | | |
| Pets | | |
Backstory
Edit
Basic Biography
Edit
Major Events and Changes
Edit
Posessions
Edit
External References
Edit
About the Character:
Sites devoted:
Book: 
Articles
Sookie Gallery
Edit
Ad blocker interference detected!
Wikia is a free-to-use site that makes money from advertising. We have a modified experience for viewers using ad blockers

Wikia is not accessible if you've made further modifications. Remove the custom ad blocker rule(s) and the page will load as expected.