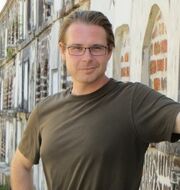 Seth Skorkowsky
— Author 
About the Author
Edit
'Seth Skorkowsky'Bio: Raised in the swamps and pine forests of East Texas, Seth Skorkowsky gravitated to the darker sides of fantasy, preferring horror and pulp heroes over knights in shining armor. His debut novel, Dämoren, was released in 2014 by Ragnarok Publications. Seth will also be releasing two sword and sorcery rogue collections, Mountain of Daggers and Sea of Quills. When not writing, Seth enjoys tabletop role-playing games, shooting sports, and traveling the world with his wife. ~ Goodreads | Seth Skorkowsky
Urban Fantasy, Sword & Sorcery, Horror
Writing Style
Edit
To expand the table, in Edit–Visual mode, right-press on a Row of the table or Column (Control-press on a Mac)—choose add Row or Column.
Genre Key: '''UF'''=Urban Fantasy, '''Noir-UF'''=Noir Urban Fantasy, '''UF-Hor'''=Urban Fantasy-Horror, Adven=Adventure
Other Writings
Edit
Anthologies:
Freebies:
Cover Artists & Contributors
Edit
Cover Artists
Edit
Other Contributors:Edit
Audio Book Narrator: — Source:
Copy Editor: Amanda Shore — Source: book credits page
Editor-in-Chief: Tim Marquitz — Source: book credits page
Publishing Information
Edit
Publishers: Ragnarok Publications
See Also
Edit
Category links at bottom of page
External References
Edit
Bibliography / Books:
Series Pages:
World, Characters, etc:
Reviews:
Interviews:
Guest Posts:
[GUEST POST Seth Skorkowsky on The Story Behind DÄMOREN] ~ SF Signal
[GUEST POST Seth Skorkowsky (MOUNTAIN OF DAGGERS) on Sword and Sorcery] ~ SF Signal
Author:
Community, Fan Sites:
Book Cover Gallery
Edit
Ad blocker interference detected!
Wikia is a free-to-use site that makes money from advertising. We have a modified experience for viewers using ad blockers

Wikia is not accessible if you've made further modifications. Remove the custom ad blocker rule(s) and the page will load as expected.