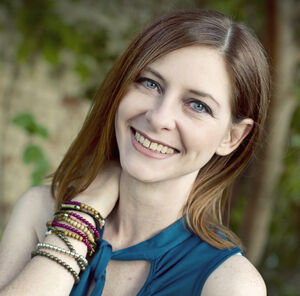 Rachel Vincent — Author
Rachel Vincent - Young Adult and Urban Fantasy
About the Author
Edit
A resident of San Antonio, Rachel Vincent has a BA in English and an overactive imagination, and consistently finds the latter to be more practical. She shares her workspace with two black cats (Kaci and Nyx) and her # 1 fan. Rachel is older than she looks-seriously-and younger than she feels, but remains convinced that for every day she spends writing, one more day will be added to her lifespan. ~ Goodreads | Rachel Vincent
To expand the table, in Edit–Visual mode, right-press on a Row of the table (Control-press on a Mac)—choose add Row or Column. Or, in Source Mode: copy-paste rows.
Genre Key: UF=Urban Fantasy, RUF=Romantic Urban Fantasy, Noir-UF=Noir Urban Fantasy, YA-UF=Young Adult Urban Fantasy, UF-SF=Urban Fantasy/Sci-Fi, UF-Hor=Urban Fantasy-Horror, PA-UF=Post-Apocalyptic-UF, Dys-UF=Dystopian Urban Fantasy,  SP=Steam Punk, PNR=Paranormal Romance
Other Writings
Edit
Anthologies:
Freebies:
Publishing Information
Edit
Author Page:
External References
Edit
Bibliography / Books:

Series Pages:
Interviews:
Author:
Community, Blogs, etc:
Gallery of Book Covers
Edit
Ad blocker interference detected!
Wikia is a free-to-use site that makes money from advertising. We have a modified experience for viewers using ad blockers

Wikia is not accessible if you've made further modifications. Remove the custom ad blocker rule(s) and the page will load as expected.