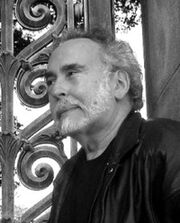 Peter S. Beagle — Author
(Unofficially) Peter S. Beagle
About the Author
Edit
Peter Soyer Beagle (born April 20, 1939) is an American fantasist and author of novels, nonfiction, and screenplays. He is also a talented guitarist and folk singer. He wrote his first novel, A Fine and Private Place , when he was only 19 years old. Today he is best known as the author of The Last Unicorn, which routinely polls as one of the top ten fantasy novels of all time, and at least two of his other books (A Fine and Private Place and I See By My Outfit) are considered modern classics. ~ Goodreads | Peter S. Beagle 
Science Fiction & Fantasy, Urban Fantasy, Literature & Fiction, Nonfiction
Trademark Style
Edit
Series and Stand Alones
Edit
| Series Title | Genre | Supernatural Elements |
| --- | --- | --- |
| Lila the Werewolf (1974) | UF, Fantasy | werewolf |
| The Last Unicorn | fantasy | unicorn |
| World of The Innkeeper's Song | Fantasy | |
| | | |
To expand the table, right-press on a row of the table or (Control-press on a Mac)—choose add row.
Genre Key: UF=Urban Fantasy, RUF=Romantic Urban Fantasy, Noir-UF=Noir Urban Fantasy, YA-UF=Young Adult Urban Fantasy, UF-SF=Urban Fantasy/Sci-Fi, UF-Hor=Urban Fantasy-Horror, PA-UF=Post-Apocalyptic-UF, Dys-UF=Dystopian Urban Fantasy, Mil-UF=Military-Urban Fantasy, SP=Steam Punk, PNR=Paranormal Romance
Other Writings
Edit
Novels, etc:
UF Anthologies & Shorts:
Essays:
Freebies:
Cover Artists
Edit
Publishing Information
Edit
Publishers:
Winner of one Hugo.
Winner of one Nebula.
Nominated for 4 World Fantasy Awards.
~ (These numbers refer to awards for best novel, novella, novelette and short story only!)
External References
Edit
Author:
Articles:
Interviews:
Series Pages:
Bibliography (books):

Community, Blogs, etc:
Ad blocker interference detected!
Wikia is a free-to-use site that makes money from advertising. We have a modified experience for viewers using ad blockers

Wikia is not accessible if you've made further modifications. Remove the custom ad blocker rule(s) and the page will load as expected.