Paranormal Scene Investigations series — by Laura Anne Gilman. This series is part of a larger group of series called the Cosa Nostradamus World. This includes the Retrievers series.
Genres and Sub-Genres
Edit
Urban Fantasy
Series Description or Overview
Edit
A spin-off series of the Retrievers—collectively, these series are known as the Cosa Nostradamus novels.
Books in Series
Edit
Paranormal Scene Investigations series:
Hard Magic (2010)
Pack of Lies (2011)
Tricks of the Trade (2011)
Dragon Justice (2012) ~ Final
Shorts, Novellas, Anthologies and Guides
Edit
Companion Series, Spinoffs, Sequels or Prequels
Edit
Staying Dead (2004)
Curse The Dark (2005)
Bring It On (2006)
Burning Bridges (2007)
Free Fall (2008)
Blood from Stone (2009)
Overrush (2004) [SF]
Palimpsest (2004) [SF]
Inferno (2010) [SF]
World Building
Edit
Places:
Aden
Chicago
Manhattan
East River
Boston
Central Park
Philadelphia
Montreal
San Diego
Supernatural Elements
Edit
✥ Magic Users,
Glossary:
Groups & Organizations:
PUPI—Private, Unaffiliated, Paranormal Investigations: A handpicked team trained to solve crimes of magic.
Bonnie has just graduated from collage. because she can not use technolgy she doesn't get hired. Then one day she gets a message on her answering machine from a business she did not apply for a job, time of her interview and address. She is curious so goes and finds a group of people waiting to be interviewed for a job just like her at same time. after a half hour no one comes into the office they get curious and knock on inner door and look in and find a dead body. They don't rush to call cops but infact go closer to the body making sure he is dead. They all look around and keep noticing facts asking questions and answering them. Then the dead body gets up and tells them they are all hired.
After they all recover they find out about P.U.P.I. A company that looks into things that talents are doing not for councel but for truth and holding people accountable for their actions. They are all talent. Which means they have magic gifts that they can use to help them find the facts of a case. They all have different skills. Bonnie is great at remembering details of things she sees. One is computer hacker that is a very rare skill most can't use technolgy because their power is current so destroys things. One can tell when most people lie.
Ian and Ben are the Top Dogs who started the company because they saw a need. They spend a lot of time teaching them how to use their currents in different ways to gather evidence and find the facts. Forensic magic its never been used that way. Their are people that don't want the facts comming out about what they might do and try to destroy the company. Their first case a daughter does not believe her parents committed suicide in a car that know one knows who owns it.
Protagonist
Edit
✥
Sidekick
Edit
Name: / What: / Sidekick-to: / About: / Book First Seen:
Characters Chart
Edit
Paranormal Scene Investigations Series Series ~ Shelfari
| Characters | What | About |
| --- | --- | --- |
| Bonnie Torres | PUPI | college grad, magic user; gets recruited for PUPI; |
| Nick | PUPI | |
| Sharon | PUPI | |
| Nifty | PUPI | |
| Pietr | PUPI | |
| Ian Strosser | | |
| Benjamin Venec | | |
| Danny | | |
| Bobo | | |
| Paula | | |
| Bonita | | |
| Bill | | |
| Lawrence | | |
| Madame | | |
| Zaki | | |
| Lou | | |
| Wells | | |
| Roblin | | |
| Hendrickson | | |
| Bippis | | |
| Wren | | |
| | | |
| | | |
To expand the table, in Edit–Visual mode, right-press on a Row of the table (Control-press on a Mac)—choose add Row or Column. Or, in Source Mode: copy-paste rows.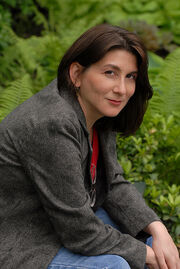 Genres: Urban Fantasy, Historical Fantasy, Fantasy, Mystery, SciFi, Short Fiction
Other Pen Names: L.A. Kornetsky (writing mystery)
Bio: Laura Anne is the author of the popular Cosa Nostradamus novels and novellas, and the award-nominated The Vineart War trilogy. Her next project is the Devil's West series from Saga / Simon & Schuster beginning in 2015. She has also dipped her pen into the mystery field as well, writing as L.A. Kornetsky (Collared, Fixed, and the forthcoming Doghouse). A member of the writers' digital co-op Book View Cafe, she continues to write and sell short fiction in a variety of genres, selling most recently to Daily Science Fiction and the anthology DEAD MAN'S HAND (May 2014). ~ Laura Anne Gilman | About The Author - Laura Anne Gilman
Cover Artist
Edit
Artist: none listed
Publishing Information
Edit
Publisher: Luna, Harlequin Luna
Author Page:
Bk-1: Trade Paperback, 329 pages, Pub: April 20th 2010—ISBN 0373803133
Bk-2: Paperback, 378 pages, Pub: Jan 18th 2011—ISBN 0373803249
Bk-3: Paperback, 1st Edition, 352 pages, Pub: Nov 15th 2011—ISBN 0373803311
Bk-4: Paperback, 336 pages, Pub: July 24th 2012—ISBN 0373803486
Book Cover Blurbs
Edit
✤ BOOK ONE—Hard Magic (2010): Welcome to P.U.P.I.—Private, Unaffiliated, Paranormal Investigations. A handpicked team trained to solve crimes the regular police can't touch—crimes of magic.
My name's Bonnie Torres. Recent college grad, magic user and severely unemployed. Until I got a call out of nowhere to interview for a job I hadn't applied for. It smelled fishy, but the brutal truth was I needed the work—so off I went. Two days later I'm a PUPI—me and Nick, Sharon, Nifty and Pietr. Five twenty-somethings, thrown into an entirely new career in forensic magic. The first job we get is a doozy: proving that the deaths of two Talents were murder, not suicide. Worse, there are high-profile people who want us to close up shop and go away. We're sniffing out things they'd rather keep buried. Looks as if this job is gonna get interesting. The only problem is, we're making it up as we go along. ~ Goodreads | Hard Magic (Paranormal Scene Investigations #1) by Laura Anne Gilman
✤ BOOK TWO—Pack of Lies (2011): My name is Bonita Torres, and eight months ago I was an unemployed college graduate without a plan. Now I'm an investigator with the Private Unaffiliated Paranormal Investigations team of New York. Pretty awesome, right? The Cosa Nostradamus, the magical community, isn't quick to give up its secrets, though. Not even to fellow members. Not even when it's in their best interests. So we've been busting our tails, perfecting our forensic skills, working to gain acceptance. The team's tight, but we have our quirks, too. And our Big Dog, Benjamin Venec, well, he's a special case, all right. But we can't give up. We're needed, especially when a case comes along that threatens to pit human against fatae. But one wrong move could cost us everything we've worked for ~ Goodreads | Pack of Lies (Paranormal Scene Investigations #2) by Laura Anne Gilman
✤ BOOK THREE—Tricks of the Trade (2011): When magic goes wrong, who are you going to call? The name's Torres, Bonnie Torres, and I'm a paranormal scene investigator—rooting out the truth about crimes of magic. It's dangerous and boring and scary and fascinating. Though not everyone in the Cosa Nostradamus is happy we're around, which can make things tricky. Working two cases, looking into a murder for the NYPD, and a rich man's break-in, should be well within our abilities. But when things start getting weird in the Electric Apple, Private Unaffiliated Paranormal Investigations is stretched to the limits, trying to keep one step ahead and out of trouble. Add in rumors of a powerful creature gunning for us and it's not just our rep on the line this time—if we don't solve this case, everyone will suffer. Fortunately, around here, when the going gets weird, the weird hire us ~ Goodreads | Tricks of the Trade (Paranormal Scene Investigations, #3) by Laura Anne Gilman
✤ BOOK FOUR—Dragon Justice (2012): In my time with PUPI, formally known as Private, Unaffiliated Paranormal Investigations, I've seen a lot. Learned a lot. And not all of it's been good. But what we do—make people accountable for crimes committed with magic—is important work. Still. Even I need to take a break every now and again. Or so I've just been told (ordered). So hey, vacation. Maybe I'll finally figure out what's going on with the "special bond" between me and the boss man, Benjamin Venec. Venec seems to like that idea—he's invited me down to join him on a jaunt to Philly. But no sooner do I arrive in the City of Brotherly Love than we're called in to look at a dead body. And that's when life gets really complicated ~ Goodreads | Dragon Justice (Paranormal Scene Investigations #4) by Laura Anne Gilman
First Sentences
Edit
Hard Magic (2010) — You might say that it all started with a phone call, that morning in my hotel room.
Pack of Lies (2011) — We were surrounded, outnumbered, and out of luck.
Tricks of the Trade (2011) — Prologue: My name is Bonnie Torres, and I'm a student of (in)human nature. / Chapter One: Every Talent in the city probably felt it when The Roblin arrived, but most of them didn't know what it was, not even after everything was done and dusted.
Dragon Justice (2012) — Prologue: Yesterday was, unofficially, the second anniversary of PUPI. / Chapter One: We hit the scene, and i started delegating.
Read Alikes (similar elements)
Edit
See Category links at bottom of page
See Also
Edit
External References
Edit
Books:
Summaries:
World, Characters, etc:
Reviews:
Interviews:
Interviews:
Video Interviews:
Author:
Community, Fan Sites:
Gallery of Book Covers
Edit
Ad blocker interference detected!
Wikia is a free-to-use site that makes money from advertising. We have a modified experience for viewers using ad blockers

Wikia is not accessible if you've made further modifications. Remove the custom ad blocker rule(s) and the page will load as expected.