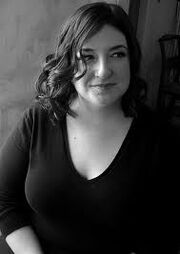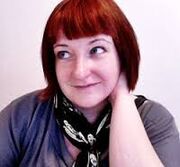 Nicole Peeler — Author
About the Author
Edit
Nicole D. Peeler writes urban fantasy for Orbit Books and, in her spare time, is an assistant professor at Seton Hill University, where she teaches in their MFA in Writing Popular Fiction. Having recently finished the final book of her award-winning Jane True series, she is looking forward to the upcoming publication of Jinn and Juice, the first book in a series about a cursed jinni living in Pittsburgh. Nicole also lives in Pittsburgh, although she's neither cursed nor a jinni.
She's also a proud member of the League of Reluctant Adults and an alumna of both Boston University and The University of Edinburgh.
Please like her Facebook fan page for up to date information on Nicole's writing. If you want to chat with her or see pictures of her sammiches, feel free to "friend" her on Facebook (Nicole Peeler) or follow her on Twitter (NicolePeeler). She's also got a Pinterest for her new book, where you can get a sneak peek at her worldbuilding process. If you'd like to send Nicole a message, the best way to do so is through email, at IHeartSelkies(at)gmail(dot)com. The worst way is through Facebook Messages, as they tend to get eaten, and Nicole loves hearing from all of you. ~ About Nicole « Nicole Peeler
Trademark Style
Edit
Humor mixed with the scary. 
lighter side of UF, occasionally raunchy, sometimes pushing boundaries
| Series Title | Genre | Supernatural Elements |
| --- | --- | --- |
| Jane True series | Light UF | vamps, fae, shifters |
| Jinni series | Light UF | Jinni, Magi, psychics, oracles, sirens, spider wraiths, bugbears |
| | | |
To expand the table, right-press or (Control-press on a Mac)—choose add row.
Other Writings
Edit
Freebies:
Cover Artists
Edit
The Jinni series:
Publishing Information
Edit
Publishers:
External References
Edit
Books:
Summaries, Articles:
The World, Characters, etc:
Reviews:
Interviews:
Author:
Community, Fan Sites:
Gallery of Book Covers
Edit
Ad blocker interference detected!
Wikia is a free-to-use site that makes money from advertising. We have a modified experience for viewers using ad blockers

Wikia is not accessible if you've made further modifications. Remove the custom ad blocker rule(s) and the page will load as expected.