Neil Gaiman — Author 
Neil Gaiman's Journal: A Perfect Week
About the Author
Edit
Neil Richard MacKinnon Gaiman, born Neil Richard Gaiman; 10 November 1960) is an English author of short fiction, novels, comic books, graphic novels, audio theatre and films. His notable works include the comic book series The Sandman and novels Stardust, American Gods, Coraline, and The Graveyard Book. He has won numerous awards, including the Hugo, Nebula, and Bram Stoker awards, as well as the Newbery and Carnegie medals. He is the first author to win both the Newbery and the Carnegie medals for the same work, The Graveyard Book (2008). In 2013, The Ocean at the End of the Lane was voted Book of the Year in the British National Book Awards. ~ Wikipedia
Writing Style
Edit
Gaiman lets his readers draw their own inferences.
To expand the table, right-press or (Control-press on a Mac)—choose add row.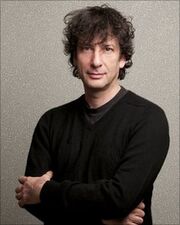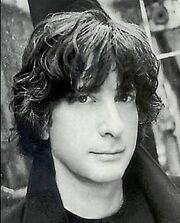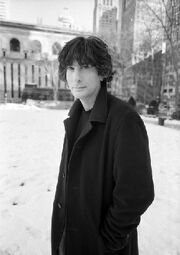 Other Writings
Edit
Anthologies:
Legends II (2003) ~ "The Monarch of the Glen" — American Gods 1.5.
Fragile Things: Short Fictions and Wonders (2006) ~ "The Monarch of the Glen" — American Gods 1.5.
Neil Gaiman - Awards and Honors
Publishing Information
Edit
Author Page:
External References 
Edit
Bibliography, Books:
Summaries, Reviews, Articles:
Interviews:
Articles:
Author:
Community:
Gallery of Book Covers
Edit
Ad blocker interference detected!
Wikia is a free-to-use site that makes money from advertising. We have a modified experience for viewers using ad blockers

Wikia is not accessible if you've made further modifications. Remove the custom ad blocker rule(s) and the page will load as expected.