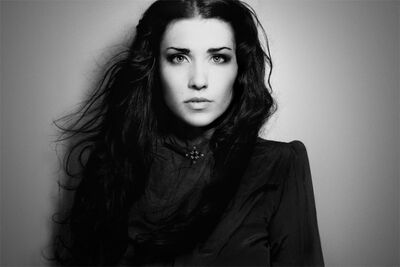 Nathália Suellen
— Cover Artist
Type of Cover Art
Edit
Urban Fantasy & Fantasy Photography and Digital Art
About the Artist
Edit
Nathalia Suellen is based in Rio de Janeiro, Brazil, where she was born and raised. Aged nineteen, she started her own for digital art and photography business. The Lady Symphonia Digital Art style is characterized by fairytale and Gothic-influenced figures cast in supernatural light against their dark, forest environments.
Suellen's first clients provided her with the opportunity to improve and develop, she recalls, but subsequent work has won her the attention of 'dark art' admirers worldwide. Her client list includes major brands and book publishers such as Random House, Penguin Group, Simon & Schuster and McCann Erickson. ~ Nathalia Suellen - Rio de Janeiro, Brazil Artist - Digital Artists - Featured - Artistaday.com
Urban Fantasy Series, Books & Authors
Edit
To expand the table, right-press or (Control-press on a Mac)—choose add row.
Client List
Edit
Random House
Direct Brands Inc.
Penguin Group
Simon & Schuster
Scholastic
Mccann Erickson
Brown Books
Harry N. Abrams Books
Harper Collins Publishing
GreenWillow Books
Orion Publishing Group
BMG Columbia House
Orbit / Yen Press
Imagine Publishing
Bundoran Press
Entangled Publishing
Random House Children's Book
SpencerHill Press
Tantor Audio Studios
Disdained (Rambo/SonyMusic)
Alpine Fault (Rare Breed Records)
Raven Quinn (Corvus Entertainment Record)
Noturna (Hellion Records)
Dark Moor (Scarlet Records)
Almah (Scarlet Records)
See Also
Edit
Category links at bottom of page
Reference Links
Edit
Artist Websites & Portfolios
Galleries—Pages with art:
Articles with art:
Book Lists:
Interviews:
Bios, About, etc:
Community:
Ad blocker interference detected!
Wikia is a free-to-use site that makes money from advertising. We have a modified experience for viewers using ad blockers

Wikia is not accessible if you've made further modifications. Remove the custom ad blocker rule(s) and the page will load as expected.