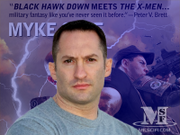 Myke Cole Author.
Urban Fantasy, Military-Fantasy
About the Author
Edit
Bio: As a security contractor, government civilian and military officer, Myke Cole's career has run the gamut from Counterterrorism to Cyber Warfare to Federal Law Enforcement. He's done three tours in Iraq and was recalled to serve during the Deepwater Horizon oil spill. All that conflict can wear a guy out. Thank goodness for fantasy novels, comic books, late night games of Dungeons and Dragons and lots of angst fueled writing. ~ Goodreads | Myke Cole
Urban Fantasy, Military Ops Fantasy
Trademark Style
Edit
| Series Title | Genre | Supernatural Elements |
| --- | --- | --- |
| Shadow Ops series | Mil-Uf | Magical abilities, Aeromancer (controls air), goblins; Magical Powers: control fire, water, earth, air and health; |
| | | |
| | | |
To expand the table, in Edit–Visual mode, right-press on a Row of the table or Column (Control-press on a Mac)—choose add Row or Column. Or, in Source Mode: copy-paste rows.
Genre Key: '''UF'''=Urban Fantasy, '''Mil-UF'''=Military-Urban Fantasy, '''Noir-UF'''=Noir Urban Fantasy, '''UF-SciFi'''=Urban Fantasy/Sci-Fi, '''UF-Hor'''=Urban Fantasy-Horro, '''PA-UF'''=Post-Apocalyptic-UF
Other Writings
Edit
Anthologies:
Others not in series:
Beyond the Wall: Exploring George R. R. Martin's A Song of Ice and Fire (2012) by James Lowder (Editor), Antholog of essays — Mike Cole wrote on how PTSD is depicted.
The Best of All Flesh: Zombie Anthology (2010) "Shouting down the moon"
Speculative Fiction 2012 (2013) — collection of 2012 SciFi blog articles
L. Ron Hubbard Presents Writers of the Future #19 () — "Blood and Horses"
The Book of Final Flesh (2003) ~ zombie shorts
Best Laid Plans (2013) ~ Military SciFi anthology
Fantasy-Faction Anthology (2014) ~
Operation Arcana (2015) ~ High fantasy action and adventure in a military vein
Cover Artists
Edit
✦ Artist—UK covers: Larry Rostant
✦ Artist—US covers: Michael Komarck
✦ Map Artist:  Priscilla Spencer — Source: Breach Zone: US Cover and Map | Myke Cole
Publishing Information
Edit
Publishers: Ace Books
See Also
Edit
Category links at bottom of page
External References
Edit
Books:
Free Stories: 
Summaries:
Articles: 
World, Characters, etc:
Reviews:
Interviews / Guest posts:
Artists:
Author:
Community, Fan Sites:
Gallery of Book Covers
Edit
Ad blocker interference detected!
Wikia is a free-to-use site that makes money from advertising. We have a modified experience for viewers using ad blockers

Wikia is not accessible if you've made further modifications. Remove the custom ad blocker rule(s) and the page will load as expected.