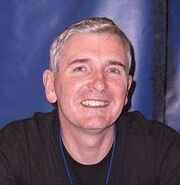 Mike Carey — Author 
About Mike & Peter | Mike Carey & Peter Gross
About the Author
Edit
Mike Carey is a British writer whose work spans comics, novels, film scripts, and TV shows. After writing shorts for British sci-fi comic 2000 AD and a few one-shots for Caliber Comics during the 1990s, he was offered DC/Vertigo's Lucifer — henceforth the longest running and most successful Sandman-related spinoff to date. While continuing to work with DC on Vertigo series like Crossing Midnight and graphic novels like God Save The Queen, he took over as lead writer for Marvel's X-Men (now X-Men: Legacy) in 2006. His work includes DC/Vertigo's Hellblazer, Marvel's Ultimate Fantastic Four, the Felix Castor novels, The Steel Seraglio (with Linda and Louise Carey), and DC/Vertigo's The Unwritten (with Peter Gross). ~ About Mike
Urban Fantasy / Comics & Graphic Novels / Science Fiction & Fantasy / Mystery & Thrillers
Trademark Style
Edit
Full Series Lis: Goodreads | Series by Mike Carey
| Series Title | Genre | Supernatural Elements |
| --- | --- | --- |
| Felix Castor series | Noir UF | demons, ghosts |
| The Unwritten series | Fantasy | GR |
| Crossing Midnight | | |
| Lucifer | | |
| Lucifer New Edition | | |
| Sigil | | |
| Lucifer Norma Editorial | | |
| Suicide Risk | | |
To expand the table, in Edit–Visual mode, right-press on a Row of the table (Control-press on a Mac)—choose add Row or Column. Or, in Source Mode: copy-paste rows.
Genre Key: UF=Urban Fantasy,, Noir-UF=Noir Urban Fantasy,, UF-Hor=Urban Fantasy-Horror, PA-UF=Post-Apocalyptic-UF, Dys-UF=Dystopian Urban Fantasy,
Other Writings
Edit
Anthologies:
Cover Artists
Edit
The Devil You Know: Alex Williamson, (2006, UK, Orbit) — Source: ISFdb: Cover: The Devil You Know
Vicious Circle: Herman Estevez (2008, US, Grand Central) ~and~ Alex Williamson (2006, UK, Orbit) — Source: Bibliography: Vicious Circle
Dead Men's Boots: Herman Estevez (2010 USA, Grand Central) ~and~ Tim Byrne (2007 UK, Orbit) — Source: Bibliography: Dead Men's Boots
Thicker Than Water: Tim Byrne (2009, UK, Orbit) — Source: Bibliography: Cover: Thicker Than Water
The Naming of the Beasts: (none listed)
Artist:
Publishing Information
Edit
Publishers:
none
External References
Edit
Bibliography (books):
Series Pages:
Reviews: 
Interviews:
Author:

Community, Blogs, etc:
Gallery of Book Covers
Edit
Ad blocker interference detected!
Wikia is a free-to-use site that makes money from advertising. We have a modified experience for viewers using ad blockers

Wikia is not accessible if you've made further modifications. Remove the custom ad blocker rule(s) and the page will load as expected.