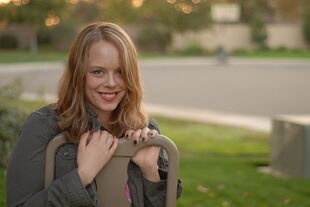 Melissa F. Olson
— Author.
About the Author
Edit
Melissa Olson was born and raised in Chippewa Falls, Wisconsin, and studied film and literature at the University of Southern California in Los Angeles. After graduation, and a brief stint bouncing around the Hollywood studio system, Melissa proved too broke for LA and moved to Madison, WI, where she eventually acquired a master's degree from UW-Milwaukee, a husband, a mortgage, a teaching gig, two kids, and two comically oversized dogs, not at all in that order. She loves Madison, but still dreams of the food in LA. (Literally. There are dreams.) Along with her Scarlett Bernard novels Dead Spots, Trail of Dead, and Hunter's Trail she has also released a mystery novel, The Big Keep. Melissa's work has been published in the Daily Trojan, the Chippewa Falls Herald Telegram, The International Journal of Comic Art, The La Crosse Tribune, U-Wire, Women on Writing.com, and the compilation Images of the Modern Vampire. She has also presented or been on panels at the Midwest Popular Culture/American Culture Conference, the International Association of the Fantastic in the Arts Conference, OdysseyCon, and EncountersCon in Wichita. ~ About - MelissaFOlson.com
Writing Style
Edit
To expand the table, in Edit–Visual mode, right-press on a Row of the table or Column (Control-press on a Mac)—choose add Row or Column. Or, in Source Mode: copy-paste rows.
Genre Key: '''UF'''=Urban Fantasy, '''Rom-UF'''=Romantic Urban Fantasy, '''Noir-UF'''=Noir Urban Fantasy,  NA=New Adult, 
Other Writings
Edit
Anthologies:
Cover Artists & Contributors
Edit
not listed
Publishing Information
Edit
Publishers:
Notes & Tid-bits
Edit
See Also
Edit
Category links at bottom of page
External References
Edit
Bibliography / Books:
Series Pages—Scarlet Bernard:
Series Pages—Boundary Magic:
Interviews: 
Artist:
Author:
Community, Fan Sites:
Book Cover Gallery
Edit

•
Ad blocker interference detected!
Wikia is a free-to-use site that makes money from advertising. We have a modified experience for viewers using ad blockers

Wikia is not accessible if you've made further modifications. Remove the custom ad blocker rule(s) and the page will load as expected.