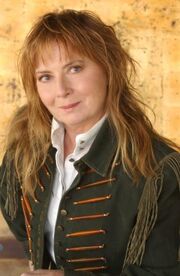 Melinda M. Snodgrass — Author
About the Author
Edit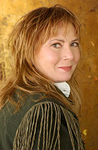 Melinda M. Snodgrass (born November 27, 1951 in Los Angeles) is a professional writer best known for her science fiction works in both print and television media.
She wrote several episodes of Star Trek: The Next Generation[2] while serving as the series' story editor during its second and third seasons. She has also contributed produced scripts for the series Odyssey 5, The Outer Limits, SeaQuest DSV, and Reasonable Doubts; she was also a consulting producer on The Profiler.
She has also written science fiction novels and short stories, notably the Circuit trilogy, and is the co-editor and a frequent story contributor to George R. R. Martin's long-running (since 1987) shared world Wild Cards series.
Snodgrass lives in Santa Fe, New Mexico. In her spare time she is an accomplished equestrian who competes in dressage competition. ~ Melinda M. Snodgrass - Wikipedia
Urban Fantasy, Science Fiction, Fantasy
Trademark Style
Edit
To expand the table, right-press on a row of the table or (Control-press on a Mac)—choose add row.
Other Writings
Edit
Anthologies:
Cover Artists
Edit
Artist: Gustave Doré — Edge series
Publishing Information
Edit
Publishers:
Notes and Tid-bits
Edit
External References
Edit
Books:
Excerpts and Freebies:
Summaries, Articles:
The World, Characters, etc:
Reviews:
Interviews:
Author:
Community, Fan Sites:
Gallery of Book Covers
Edit
Ad blocker interference detected!
Wikia is a free-to-use site that makes money from advertising. We have a modified experience for viewers using ad blockers

Wikia is not accessible if you've made further modifications. Remove the custom ad blocker rule(s) and the page will load as expected.