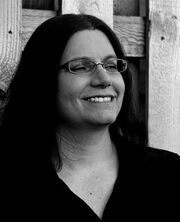 Lucy A. Snyder — Author 
Urban Fantasy / Horror /
About the Author
Edit
Lucy A. Snyder Bio: Lucy A. Snyder is the Bram Stoker Award-winning author of the novels Spellbent, Shotgun Sorceress, Switchblade Goddess, and the collections Sparks and Shadows, Chimeric Machines, and Installing Linux on a Dead Badger. Her writing has appeared in Strange Horizons, Weird Tales, Hellbound Hearts, Doctor Who Short Trips: Destination Prague, Chiaroscuro, GUD, and Lady Churchill's Rosebud Wristlet.
Lucy was born in South Carolina but grew up in San Angelo, Texas. She currently lives in Worthington, Ohio with her husband and occasional co-author Gary A. Braunbeck.
If genres were wall-building nations, Lucy's stories would be forging passports, jumping fences, swimming rivers and dodging bullets. ~ More:  Author Lucy A. Snyder: Biography and Photos
Cover Artist
Edit
Artist: Dan Dos Santos ~ Source: Author Lucy A. Snyder: Spellbent
Trademark Style
Edit
| Series Title | Genre | Supernatural Elements |
| --- | --- | --- |
| Jessie Shimmer series | UF / Hor | Magic user, dragons, hells, dangerous dudes in dark suits, Warlock, demon, magical fake eye, council of sorcerers, wererats |
| | | |
| | | |
To expand the table, right-press on a row of the table or (Control-press on a Mac)—choose add row.
Other Writings
Edit
Anthologies:
Novels & Shorts, etc:
Freebies:
Cover Artist
Edit
Artist: Dan Dos Santos ~ Source: Author Lucy A. Snyder: Spellbent
Publishing Information
Edit
Publishers:
★ Selected for the 2009 Locus Recommended Reading List
★ Bram Stoker Award Nomination for Superior Achievement in a First Novel (Spellbent, 2010)
★ Bram Stoker Award for Superior Achievement in Poetry (Chimeric Machines, 2009)
★ Editors' Choice Black Quill Award for Best Dark Genre Collection (Sparks and Shadows, 2008)
Honorable mentions, The Year's Best Fantasy and Horror (various)
Goodreads | Lucy A. Snyder Quotes (Author of Spellbent)
See Also
Edit
External References
Edit
Books:
Excerpts and Freebies:
Summaries, Articles:
The World, Characters, etc:
Reviews:
BOOK 1:
BOOK 2:
BOOK 3:
Interviews, Guest Posts, Author Commentary:
Author:
Community, Fan Sites:
Gallery of Book Covers
Edit
Ad blocker interference detected!
Wikia is a free-to-use site that makes money from advertising. We have a modified experience for viewers using ad blockers

Wikia is not accessible if you've made further modifications. Remove the custom ad blocker rule(s) and the page will load as expected.