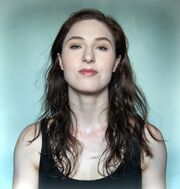 Lindsey Look
— Cover Artist 
About the Artist
Edit
When Lindsey was three years old she won her first art contest, and she's been hooked ever since. Sure, she's come along way from the upside down drawing of her father with a very realistic beard, but her passion for art hasn't changed much.
Lindsey attended The Art Institute of Boston with the intention to major in animation. However, she fell in love with painting science fiction and fantasy stories, and put all of her time and energy into the illustration department at AIB. She graduated magna cum-laude with a BFA in Illustration.
Today, Lindsey spends almost all of her free time drawing and painting things that don't exist. She lives in Connecticut with her husband Josh, and her two bunnies, Gimli and Willow.
Her work has appeared in multiple volumes of Spectrum: The Best in Fantastic Contemporary Art, and some of her clients include Wizards of the Coast, Penguin Books, Audible.com, Smirk and Dagger Games, Applibot, and Science Fiction Book Club. ~ About
Genres of Cover Art
Edit
Fantasy, Urban FAntasy, 
Urban Fantasy Series, Books & Authors
Edit
To expand the table, right-press on a row of the table or (Control-press on a Mac)—choose add row.
Client List
Edit
Reference Links
Edit
Artist Websites & Portfolios
Galleries—Pages with art:
Articles with art:
Book Lists:
Bios, About, etc:
Community:
See Also
Edit
Ad blocker interference detected!
Wikia is a free-to-use site that makes money from advertising. We have a modified experience for viewers using ad blockers

Wikia is not accessible if you've made further modifications. Remove the custom ad blocker rule(s) and the page will load as expected.