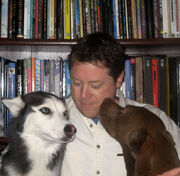 Kurt Miller is an illustrator and cover artist. 
Kurt Miller Illustration Studio
Type of Cover Art
Edit
Urban Fantasy, Fantasy, Sci-fi,  Military Sci-fi . . . 
About the Artist
Edit
Kurt Miller is a freelance illustrator whose client list includes Activision, Baen Books, Electronic Arts, Hasbro, Simon schuster and Take Two Interactive. He's been in the visual communications field since the 1990's, going back to the early days of Photoshop. For eight years Kurt was an in-house illustrator for a computer gaming company. Currently a self-employed illustrator, you can find Kurt's work on sci-fi book covers or on adventurous board and computer game covers. ~ Kurt Miller's Image Gallery - Digital Artist
Urban Fantasy Series, Books & Authors
Edit
Urban Fantasy Clients: Publishers
Edit
Reference Links
Edit
Official Websites:
Bio / About: 
Gallery:
Ad blocker interference detected!
Wikia is a free-to-use site that makes money from advertising. We have a modified experience for viewers using ad blockers

Wikia is not accessible if you've made further modifications. Remove the custom ad blocker rule(s) and the page will load as expected.