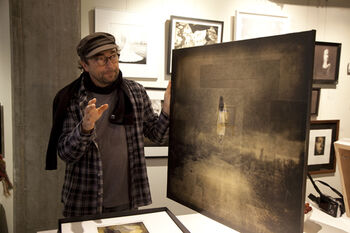 Kamil Vojnar — Cover Artist
Type of Cover Art
Edit
Urban Fantasy / ?
About the Artist
Edit
Kamil Vojnar was born in Moravia, Czechoslovakia, in 1962 in the middle of the Cold War. He studied at the School of Graphic Arts in Prague. After he completed his military service as a tank commander he immigrated to the United States. He finished his education at the Art Institute of Philadelphia and the Art Students League in New York.
For a period of 10 years he ran an image/design studio in New York, where he "created countless book and CD covers for a wide range of US-based and international clients." His passion, however, was to be an artist and do his personal work. He found a quiet refuge in St. Remy de Provence in southern France.
Kamil has exhibited work in the French cities of Paris, St. Remy de Provence, Nice, and Nantes; Prague; Oslo, Norway; Gent, Belgium; England; Toronto; Philadelphia; Santa Monica, Venice, and Santa Barbara, California; Durango, Colorado; and Woodstock, New York; and here in Santa Fe. His work has been published in the Italian Zoom magazine, the French Vis. A. Vis. magazine, Photo District News, Eyemazing, and the Italian art magazine Gente di Fotographia. ~ Kamil Vojnar at VERVE Gallery of Photography
Urban Fantasy Series, Books & Authors
Edit
To expand the table, right-press or (Control-press on a Mac)—choose add row.
Sources for connecting art to books: 
Client List
Edit
Reference Links
Edit
Artist Websites & Portfolios:
Galleries—Pages with art:
Vimeo:
Pinterest:
Book Covers: 
Articles with art:
Book Lists:
Interviews:
Bios, About, etc:
Ad blocker interference detected!
Wikia is a free-to-use site that makes money from advertising. We have a modified experience for viewers using ad blockers

Wikia is not accessible if you've made further modifications. Remove the custom ad blocker rule(s) and the page will load as expected.