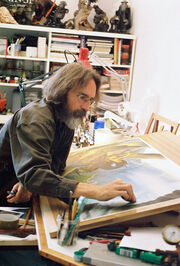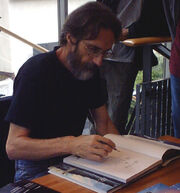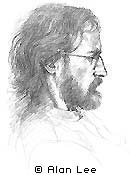 John Howe — Artist 
John Howe | CHRONICLES of an illustrator
Type of Cover Art
Edit
Fantasy and Myth
About the Artist
Edit
John Howe (born August 21, 1957 in Vancouver, British Columbia, Canada) is a book illustrator, living in Neuchatel, Switzerland. One year after graduating from high school, he studied in a college in Strasbourg, France, then at the Ecole des Arts Décoratifs.
He is best known for his work based on J. R. R. Tolkien's worlds. Howe and Alan Lee were the lead artists of Peter Jackson's The Lord of the Rings movie trilogy. Howe also re-illustrated the maps of The Lord of the Rings, The Hobbit, and The Silmarillion in 1996–2003. His work is however not limited to this, and includes images of myths such as the Arthurian legend or Beowulf. He also illustrated many other books, amongst which many belong to the fantasy genre (Robin Hobb's books for instance.) Howe also contributed to the film adaptation of The Lion, the Witch, and the Wardrobe by C.S. Lewis. He is an expert in medieval armour and weaponry. ~ John Howe - Lord of the Rings Wiki ~ Full Bio:  :// John Howe :: Illustrator [Biography]
Urban Fantasy Series, Books & Authors
Edit
To expand the table, right-press on a row of the table or (Control-press on a Mac)—choose add row.
See Also
Edit
Reference Links
Edit
Artist Websites & Portfolios:
Galleries—Pages with art:
Video Art:
Posted Art:
Articles with art:
Newford Wiki Pages: 
Book Lists, Bibliographies:
Interviews, Talks:
Bios, About, etc:
Making the Films: 
Ad blocker interference detected!
Wikia is a free-to-use site that makes money from advertising. We have a modified experience for viewers using ad blockers

Wikia is not accessible if you've made further modifications. Remove the custom ad blocker rule(s) and the page will load as expected.