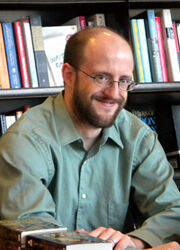 Jim C. Hines
is the author of
Magic Ex Libris series
. 
About the Author
Edit
Jim C. Hines' latest book is CODEX BORN, the second in his modern-day fantasy series about a magic-wielding librarian, a dryad, a secret society founded by Johannes Gutenberg, a flaming spider, and an enchanted convertible. He's also the author of the PRINCESS series of fairy tale retellings as well as the humorous GOBLIN QUEST trilogy. His short fiction has appeared in more than 40 magazines and anthologies, including Realms of Fantasy, Turn the Other Chick, and Sword & Sorceress XXI. He's also an active blogger, and won the 2012 Hugo Award for Best Fan Writer. Jim lives in Michigan with his wife and two children. He's currently hard at work on UNBOUND, the third book in the MAGIC EX LIBRIS series. ~ Goodreads 
| Series Title | Sub Genre | Supernatural Elements |
| --- | --- | --- |
| Magic Ex Libris series | Urban Fantasy | Libriomancer, sorcerers, vampires, werewolves |
| | | |
Other Writings
Edit
Anthologies:
Freebies & Excerpts: 
Novels, etc:
Cover Artist
Edit
Artist: Gene Mollica
Publishing Information
Edit
Won the Hugo Award for Best Fan Writer in 2012.
Goodreads | Jim C. Hines Quotes (Author of Libriomancer)
See Also
Edit
External References
Edit
Author:
Excerpts: 
Interviews:
Articles:
Author, Misc:
Bibliography:
Community:
Publisher: 
Ad blocker interference detected!
Wikia is a free-to-use site that makes money from advertising. We have a modified experience for viewers using ad blockers

Wikia is not accessible if you've made further modifications. Remove the custom ad blocker rule(s) and the page will load as expected.