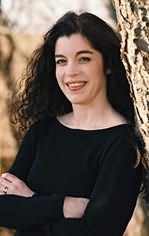 Jeri Smith-Ready — Author 
About the Author
Edit
Jeri Smith-Ready has been writing fiction since the night she had her first double espresso. A steady stream of caffeine has resulted in twelve published novels for teens and adults, including RT Reviewers Choice-winning fantasy Eyes of Crow; as well as the PRISM award-winning Wicked Game and Shade. Her latest is the YA contemporary novel This Side of Salvation (April 2014), which Booklist called a "smart, unpredictable, and well-rounded tale" in its starred review.
Jeri lives in the rolling hills of Maryland with her husband and two cats, who often play tag-team "sit in the author's lap and keep her from writing." (The cats, that is, not the husband. Though actually...) When not writing, she's either out running or on Twitter. ~ About Jeri - Jeri Smith-Ready
Urban Fantasy, Young Adult, Science Fiction & Fantasy, Contemporary
Writing Style
Edit
To expand the table, right-press or (Control-press on a Mac)—choose add row.
Genre Key: UF=Urban Fantasy, RUF=Romantic Urban Fantasy, Noir-UF=Noir Urban Fantasy, YA-UF=Young Adult Urban Fantasy, UF-SF=Urban Fantasy/Sci-Fi, UF-Hor=Urban Fantasy-Horror, PA-UF=Post-Apocalyptic-UF, Dys-UF=Dystopian Urban Fantasy, Mil-UF=Military-Urban Fantasy, SP=Steam Punk, PNR=Paranormal Romance
Other Writings
Edit
Novels, etc:
Requiem for the Devil (2001)
The Wild's Call (2009)
Bridge (2013)
This Side of Salvation (2014)
Anthologies:
Cover Artists
Edit
Publishing Information
Edit
Publishers:
External References
Edit
Author:
Interviews:
Series Pages:
Reviews: 
Bibliography:
Community, Blogs, etc:
Ad blocker interference detected!
Wikia is a free-to-use site that makes money from advertising. We have a modified experience for viewers using ad blockers

Wikia is not accessible if you've made further modifications. Remove the custom ad blocker rule(s) and the page will load as expected.