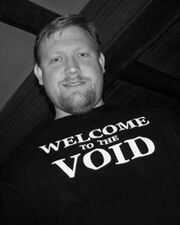 J.F. Lewis — Author
J. F. Lewis - Author at Large - Official Website
Urban Fantasy
About the Author
Edit
J. F. Lewis
✤ J.F. Lewis lives in Birmingham, Alabama, and is older than is necessary. He decided that he wanted to be a writer when a supposed creative writing teacher questioned his sanity and suggested therapy. The author spent eight wonderful years working in a comic and game shop, until financial considerations required him to become a corporate schmoe. He abides with his patient wife, two adorable sons, and an ornery Akita. ✤ ~ 
✤ J.F. Lewis lives in Birmingham, Alabama with his patient wife, two adorable sons, and a crazed canine. He decided that he wanted to be a writer when a supposed creative writing teacher questioned his sanity and suggested therapy. Staked was his first novel (and it also got him excommunicated). The Void City series continues in ReVamped, Crossed, and Burned.
His new novella A COPRSE OF MISTAKEN IDENTITY featuring the same humor found in his Void City series is now available as an ebook. In it, readers are introduced to the world of Marlo Morne, a zaomancer, whose magic deals with the breath of life. He can breathe life into the recently deceased... even inanimate objects, but bringing things to life is always the easy part. Staying alive afterward... that can be tricky.
An avid reader, Jeremy also enjoys sushi, popcorn, lukewarm sodas, and old black and white movies. His two favorite activities are singing lullabies to his kids at bedtime and typing into the wee hours of the morning. Fortunately, like the protagonist of his Void City novels, the author takes very little sleep. ✤ ~ Amazon.com: J. F. Lewis: Books
Trademark Style
Edit
Grit with humor
J.F. writes turbo-charged dark urban fantasy, with laughs, love and lot's of action. SciFiGuy.ca: Review – Revamped by J.F. Lewis
To expand the table, right-press on a row of the table or (Control-press on a Mac)—choose add row.
Other Writings
Edit
Anthologies:
Novels, etc:
Cover Artists
Edit
Publishing Information
Edit
Publishers:
Goodreads | J.F. Lewis Quotes (Author of Staked)
See Also
Edit
External References
Edit
Books:
Interviews: 
Summaries:
Reviews,
Articles:
Fantasy books: 
The World, Characters, etc:
Author, Misc:
Covers: 
Community, Fan Sites:
Gallery of Book Covers
Edit
Ad blocker interference detected!
Wikia is a free-to-use site that makes money from advertising. We have a modified experience for viewers using ad blockers

Wikia is not accessible if you've made further modifications. Remove the custom ad blocker rule(s) and the page will load as expected.