Hoodoo series
— by
Adrian Phoenix
, author of
Maker's Song series
.
Page need world-building help 
Genres and Sub-Genres
Edit
Series Description or Overview
Edit
The story follows Kellie Rivière, hoodoo practitioner who has gone to visit a magical carnival run by the Hecatean Alliance, kind of international magic police/UN. It's a time to party and play with your fellow magical practitioners and Kellie has a blast – until she wakes up and finds the guy she slept with last night is now dead in her bed. And worse, the magic seems to have been aimed for her. She now has to deal with her dead lovers surviving friends and family, the Hecatean Alliance officials and the shadows of her own traumatic past while trying to find out who is trying to kill her, her friends and her family in the name of an ongoing vendetta. ~ Fangs For The Fantasy: Black Dust Mambo by Adrian Phoenix
Lead's Species
Edit
Primary Supe
Edit
Magic Users: Hoodoo, voodoo, sorcerers, witches... 
What Sets it Apart
Edit
Narrative Type and Narrators
Edit
First person narrative told from Kellie Rivière's perspective;
Books in Series
Edit
Hoodoo series:
Black Dust Mambo (2010)
Black Heart Loa (2011)
Shorts, Novellas, Anthologies and Guides
Edit
2.5. Caught Forever Between (2012)
Other Series by Author onsite
Edit
Themes, Motifs, Symbolism
Edit
The menace of magic as an unknown and distant force, of an enemy that can strike without you being able to see it. ~ Fangs For The Fantasy
World Building
Edit
New Orleans, Bayou
Places:
Bayou Cyprés Noir: Kallie's home
Supernatural Elements Edit
✥ Cajun hoodoo, soul-eating juju, shaman, sorcerer, gris gris, bayou pirate, black dust hex,
Glossary: Edit
Mambo: term for a voodoo priestess
Rootworker: term for hoodoos.
draiochtbruthair: brother-in-magic
Groups & Organizations:Edit
Hecatean Alliance: kind of international magic police/UN.
In this world there is a variety of magical traditions—wiccans and hoodoo and voodoo and more formal Hecetean magic. The hoodoo and voodoo. The menace of magic as an unknown and distant force, of an enemy that can strike without you being able to see it, without you even having to be close to the person trying to hex you. It's a them I haven't seen much outside of the Harry Dresden books by Jim Butcher and it adds an element of menace and tension that mere hissing vampires and snarling werewolves cannot match. ~ Fangs For The Fantas
Protagonist
Edit
✥ Kellie Rivière:
Sidekick
Edit
Name: Belladonna / What: Voodoo Priest / Sidekick-to: Kellie Rivière / About: best friend / Book First Seen: Black Dust Mambo
Characters Chart
Edit
| Characters | What | About |
| --- | --- | --- |
| Kellie Rivière | hoodoo practitioner | Hoodoo root-worker in training. Has long dark hair and blue-violet eyes; mixed race; |
| Belladonna Brown | Voodoo Priest (mambo) | voodooienne; Kallie's best friend; Tall and boyishly slim, her skin the color of dark chocolate; |
| Layne Valin | Celtic | honey-blond dreads that go nearly to his waist, bue-inked Celtic tattoos (fox tattoo beneath his right eye) and pine-green eyes |
| Gage Buckland | pagan Nomad conjurer, Fox clan; | Layne's brother-in-magic; Kallie hooks up with; finds him dead in her bed the next night; swirling blue-inked clan tattoos, small fox black-inked beneath his right eye; |
| Mckenna Blue | shaman, Raven clan | Nomad Irish or Scottish; Layne's ex wife and friend; Layne's ex-wife; hates Kallie; Nomad; |
| Gabrielle LaRue | Hoodoo mentor, mambo | woman under whom Kallie studied, her aunt (from her mother side) |
| Lord Basil Augustine | Illusionist | British Master of the Hecatean Alliance; smug and full of pride; his ghost possesses a body, he obsesses on; |
| Rosette St. Cyr | Doctor Heron's daugther | share her father's sense of revenge; the one that put the hex in Kallie's bed; |
| Doctor Heron | hoodoo bogeyman | crusade of revenge against Kallie's family; |
| Jackson Bonaparte | Kallie's cousin, pirate | gone missing; orphaned as a teenager when a hurricane killed his family; |
| Poesy Valin | Layne's sister | She was murdered. |
| Felicity Fields | assistant. | Lord Augustine's assistant. |
| Baron Samedi | loa | |
| Erzulie | | |
| | | |
| | | |
To expand the table, in Edit–Visual mode, right-press on a Row of the table or Column (Control-press on a Mac)—choose add Row or Column.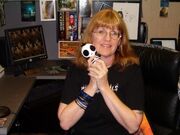 Adrian Phoenix
Bio: Adrian Phoenix has had stories published in Amazing Stories, Pulphouse, and in anthologies, including Embracing the Dark. She also earned an Honorable Mention in The Year's Best Fantasy and Horror Fourth Annual Collection edited by Ellen Datlow and Terri Windling. All short fiction has been published under Adrian's full name, Adrian Nikolas Phoenix. She lives in Oregon with three cats – Amiga, Diabla, and Ember, and travels to New Orleans, the city of her heart, whenever possible. Adrian Phoenix Author Page ~ Shelfari
Contributors
Edit
Cover Artists
Edit
Other Contributors:Edit
Audio Book Narrator: — Source:
Editor: — Source:
Publishing Information
Edit
Book Cover Blurbs
Edit
✤ BOOK ONE—Black Dust Mambo (2010): There will be times, girl, when all your magic ain't going to be enough, times when it will seem to dry up like mud under the noonday sun, or even make matters worse . . ." Kallie Riviere, a fiery Cajun hoodoo apprentice with a talent for trouble, finds herself smack-dab in the middle of one of those times her mentor warned her about when she visits New Orleans to attend the Hecatean Alliance's annual carnival: her hard-bodied conjurer hookup ends up dead in her blood-drenched bed. And he was killed by something that Kallie would never dream of touching -- the darkest of dark juju, soul-eating juju -- a black dust hex that may have been meant to kill her. Now Kallie has to use every bit of hoodoo knowledge and bayou-bred mojo she possesses to clear her own name and find the killer -- even as that dark sorcerer hunts Kallie and her friends. But Kallie's search for the truth soon leads her in a direction she never anticipated -- back home to Bayou Cypres Noir, and to Gabrielle LaRue, Kallie's aunt, protector, and hoodoo mentor . . . who is looking more and more like she just might be the one who wants Kallie dead.  ~ Goodreads | Black Dust Mambo (Hoodoo, #1) by Adrian Phoenix
✤ BOOK TWO—Black Heart Loa (2011): "An eye for an eye is never enough." Kallie Riviere, a Cajun hoodoo apprentice with a bent for trouble, learned the meaning of those ominous words when hoodoo bogeyman Doctor Heron targeted her family for revenge. Now, while searching for her still-missing bayou pirate cousin, Kallie finds out the hard way that someone is undoing powerful gris gris, which means that working magic has become as unpredictable as rolling a handful of dice. The wards woven to protect the Gulf coast are unraveling, leaving New Orleans and the surrounding bayous vulnerable just as a storm–the deadliest in a century–is born. As the hurricane powers toward the heart of all she loves, Kallie desperately searches for the cause of the disturbing randomness, only to learn a deeply unsettling truth: the culprit may be herself. To protect her family and friends, including the sexy nomad Layne Valin, Kallie steps into the jaws of danger . . . and finds a loup-garou designed to steal her heart–literally. ~ Goodreads | Black Heart Loa (Hoodoo, #2) by Adrian Phoenix
First Sentences
Edit
Black Dust Mambo (2010) — "C'mon, scoot your gorgeous ass over, Gage," Kallie Riviere whispered, climbing onto the shadowed bed.
Black Heart Loa (2011) – The goddamned nightmare hadn't ended, after all.
Read Alikes (similar elements)
Edit
Voodoo Magic
Sorcerers:
See Also
Edit
See Category links at bottom of page
External References
Edit
Books:
World, Characters, etc:
Reviews: (use these reviews for world-building section)
Interviews, Guest Posts, Author Commentary:
Artist:
Author:
Community, Fan Sites:
Gallery of Book Covers
Edit
Ad blocker interference detected!
Wikia is a free-to-use site that makes money from advertising. We have a modified experience for viewers using ad blockers

Wikia is not accessible if you've made further modifications. Remove the custom ad blocker rule(s) and the page will load as expected.