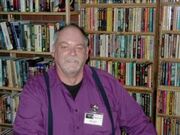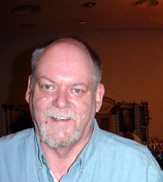 Glen Cook — Author 
None
Alternative:
Early Urban Fantasy / Fantasy Noir / High Fantasy / Science Fiction
About the Author
Edit
Genres: Fantasy, Early-Urban Fantasy 
About: Glen Cook is an American science fiction and fantasy author, best known for his fantasy series, The Black Company. Cook currently resides in St. Louis, Missouri. ~ SFF AUTHOR Glen Cook | Fantasy Literature: Fantasy and Science Fiction Book and Audiobook Reviews
Bio: Born in 1944, Glen Cook grew up in northern California, served in the U.S. Navy, attended the University of Missouri, and was one of the earliest graduates of the well-known "Clarion" workshop SF writers. Since 1971 he has published a large number of Science Fiction and fantasy novels, including the "Dread Empire" series, the occult-detective "Garrett" novels, and the very popular "Black Company" sequence that began with the publication of The Black Company in 1984. Among his science fiction novels is A Passage at Arms.
After working many years for General Motors, Cook now writes full-time. He lives near St. Louis, Missouri, with his wife Carol. ~ Glen Cook | Authors | Macmillan
Trademark Style
Edit
| Series Title | Genre | Supernatural Elements |
| --- | --- | --- |
| Garrett Files series | Early UF / Fantasy Noir | Magic, half-elf, frog-like grolls, wizard, faeries, elves, trolls, pixies, ogres', dwarves... |
| Chronicles of the Black Company series (14 books) | Epic Fantasy | sorcerers and demigods |
| Dread Empire (8 books) | Epic Fantasy | wizards, |
| Last Chronicle of the Dread Empire (3 books) | Epic Fantasy | |
| Instrumentalities of the Night (4 books) | Epic Fantasy | Imps, demons, dark gods, magic |
| Starfishers Trilogy (4 books) | Space Opera, Fantasy-Sci-fi | |
| Darkwar (3 books) | Fantasy with Sci-fi elements: space battles | |
To expand the table, right-press on a row of the table or (Control-press on a Mac)—choose add row.
Other Writings
Edit
Anthologies:
Novels, etc:
Freebies:
Cover Artists
Edit
Alan Pollack
Bryn Barnard
Publishing Information
Edit
Publishers: Ace, 
External References
Edit
Author:
Bibliography:
Series Pages:
Interviews:
Reviews:
Community, Fan Sites:
Gallery of Book Covers
Edit
Ad blocker interference detected!
Wikia is a free-to-use site that makes money from advertising. We have a modified experience for viewers using ad blockers

Wikia is not accessible if you've made further modifications. Remove the custom ad blocker rule(s) and the page will load as expected.