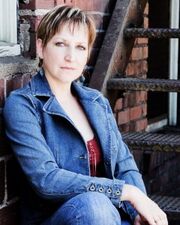 Devon Monk is an author of Urban Fantasy and Steampunk books. 
Book #1 of the NEW House Immortal trilogy: "House Immortal" will be released on September 2, 2014. (usure of the genre) 
About the Author
Edit
Devon Monk is an American writer of urban fantasy novels. She has published over 50 short stories in fantasy, science fiction, horror, humor, and young adult magazines and anthologies. Monk currently resides in Oregon with husband, two sons, and a dog named Mojo. ~ Devon Monk - Wikipedia
Devon lives in Oregon with one husband, two sons, and a dog named Mojo. Her series include the Allie Beckstrom urban fantasy books, set in modern-day Portland, Oregon where magic is the new technology, The Age of Steam steampunk series, set in the 1800′s American West, and the Broken Magic series, which are the spin-off books from the Allie Beckstrom world. She also has a collection of short stories titled: A Cup of Normal. When not writing, she is knitting silly things, or drinking way too much coffee. ~ Deadline Dames
| Series Title | Sub Genre | Supernatural Elements | Artist  |
| --- | --- | --- | --- |
| Allie Beckstrom series | UF | Magic users, Necromorphs, gargoyles, black & white magic, shade, underworld . . .  | Larry Rostant |
| Broken Magic Series | UF | companion-to: Allie Beckstrom | |
| Age of Steam series | Steampunk | Publisher: Roc, Editor: Anne Sowards | Cliff Nielsen |
| House Immortal trilogy - NEW | UF, SciFi, Steampunk – ? | dragons, people stitched-together with magic (Frankenstein-like),  | Eric Williams |
| | | | |
Genre Key: UF=Urban Fantasy, RUF=Romantic Urban Fantasy, Noir-UF=Noir Urban Fantasy, YA-UF=Young Adult Urban Fantasy, UF-SF=Urban Fantasy/Sci-Fi, UF-Hor=Urban Fantasy-Horror, PA-UF=Post-Apocalyptic-UF, Dys-UF=Dystopian Urban Fantasy, Mil-UF=Military-Urban Fantasy, SP=Steam Punk, PNR=Paranormal Romance
Other Writings
Edit
Collections:
A Cup of Normal (2010) Collection: dark fairytales to alien skies
Anthologies:
Mammoth Book of Vampire Romance 2: Love Bites (2009) "Skein of Sunlight" (Maddie)
Sword and Sorceress XV (1998) "Under Her Wing"
Fantasy Gone Wrong (2006) "Moonlighting"
Crime Spells (2009) "The Sweet Smell of Cherries"
Maiden, Matron, and Crone (2005) "?"
Year's Best Fantasy 2 (2002) "?"
Unnatural Worlds (Fiction River, #1) (2013) "Life Between Dreams"
Novels: 
Freebies:
A Cup of Normal
Mythopoeic Fantasy Award for Adult Literature
The Endeavour Award
Publishing Information
Edit
Publisers: Penguin, 
Goodreads | Devon Monk Quotes (Author of Magic to the Bone)
External References
Edit
Bibliography:
Freebies:
Summaries:
Reviews:
Interviews:
Aritst: 
Author:
Community, Fan Sites:
Gallery of Book Covers
Edit
Ad blocker interference detected!
Wikia is a free-to-use site that makes money from advertising. We have a modified experience for viewers using ad blockers

Wikia is not accessible if you've made further modifications. Remove the custom ad blocker rule(s) and the page will load as expected.