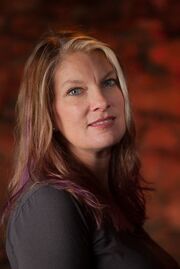 Debra Dunbar
— Author
About the Author
Edit
Debra Dunbar
Bio: Debra lives on a farm in Maryland with Sweetie, three sons, and a Noahs ark of four legged family members. She has a corporate job during the day, and writes novels at night, after the kids are tucked in bed. She drives an old PT Cruiser, couldnt carry a tune if you duct taped it to her back, and enjoys an occasional cosmopolitan (heavy on the vodka). On a good day, she jogs and horseback rides, hopefully managing to keep the horse between herself and the ground. Her only known super power is Identify Roadkill. ~ FF and Goodreads
Urban Fantasy, NA UF, 
Writing Style
Edit
To expand the table, in Edit–Visual mode, right-press on a Row of the table or Column (Control-press on a Mac)—choose add Row or Column. Or, in Source Mode: copy-paste rows.
Genre Key: '''UF'''=Urban Fantasy, '''Rom-UF'''=Romantic Urban Fantasy, '''PNR'''=Paranormal Romance, '''YA'''=Young Adult, '''YA-UF'''=Young Adult Urban Fantasy, '''Noir-UF'''=Noir Urban Fantasy, '''UF-SciFi'''=Urban Fantasy/Sci-Fi, '''UF-Hor'''=Urban Fantasy-Horror, '''PA-UF'''=Post-Apocalyptic-UF, '''Dys'''=Dystopian, '''Mil-UF'''=Military-Urban Fantasy, '''SP'''=Steampunk, NA=New Adult, SH=Super-Hero,
Other Writings
Edit
Anthologies:
Freebies:
Contributors
Edit
Cover Artists
Edit
Other Contributors:
Edit
Audio Book Narrator: — Source:
Editor: — Source:
Publishing Information
Edit
Publishers:
Notes & Tid-bits
Edit
See Also
Edit
Category links at bottom of page
External References
Edit
Bibliography / Books:
Freebies:
Series Pages—Imp Series:
Series Pages—Half-Breed Series:
World-building:

Interviews:
Articles:
Author:
Community, Fan Sites:
Gallery of Book Covers
Edit
Ad blocker interference detected!
Wikia is a free-to-use site that makes money from advertising. We have a modified experience for viewers using ad blockers

Wikia is not accessible if you've made further modifications. Remove the custom ad blocker rule(s) and the page will load as expected.