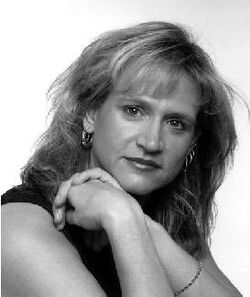 Cheyenne McCray
— Author
Cheyenne McCray, New York Times Bestselling Author
PNR / UF / Erotic Romance/ Romantic Suspense / Paranormal Action Adventure
About the Author
Edit
Cheyenne McCray
New York Times and USA Today bestselling author Cheyenne McCray's books have received multiple awards and nominations—Listed below in the Awards section.
Cheyenne grew up on a ranch in southeastern Arizona. She has been writing ever since she can remember, back to her kindergarten days when she penned her first poem. She always knew one day she would write novels, hoping her readers would get lost in the worlds she created, just as she experienced when she read some of her favorite books.
Chey has three sons, two dogs, and is an Arizona native who loves the desert, the sunshine, and the beautiful sunsets.
Trademark Style
Edit
| Series Title | Genre | Supernatural Elements |
| --- | --- | --- |
| Night Tracker series | UF | Para-PI, Drow, Paranorms, dopplers (paranorm shifters), metamorphs, light elves, sprites, demons, incubi, succubi, werewolves, shifters, vampires, necromancers, zombies, shadow shifters, shadow stalkers, elemental superpowers |
| Magic series | PNR/UF | D'Anu Witches, grey magic, witches, Fae warriors, bird-man, Faeries, Dark & Light Elves, warlocks, demons, Fomorii demons, gnomes, dragons, shape-shifters, undines, elementals, Druids, Drow King, brownies, gods, god-warlock, dryads, Mistwalkers, monsters, Paranormal Special Forces, Otherworld, Underworld |
| | | |
To expand the table, right-press on a row of the table or (Control-press on a Mac)—choose add row. 
Other Writings
Edit
Anthologies:
Non-UF Anthologies:  (don't make pages)
No Rest for the Witches, "Breath of Magic," (2007)
Real Men Last All Night, "The Edge of Sin," (2009)
Mammoth Book of Special Ops Romance, "Dark Force," (2010)
Legally Hot, "Deadly Dance," (2012)
Cover Artists
Edit
Publishing Information
Edit
Publishers: St. Martin's Press, St. Martin's Paperbacks
RT Book Reviews magazine's Reviewer's Choice awards for:

Best Erotic Romance of the year
Best Paranormal Action Adventure of the year

Three RT Book Reviews nominations, including:

Best Erotic Romance,
Best Romantic Suspense,
Best Paranormal Action Adventure

Golden Quill award for Best Erotic Romance
The Road to Romance's Reviewer's Choice Award
Gold Star Award from Just Erotic Romance Reviews
CAPA award from The Romance Studio
Lists:
See Also
Edit
External References
Edit
Books:
Summaries, Articles:
Other Series: 
Interviews:
Author: 
Community, Fan Sites:
Gallery of Book Covers
Edit
Ad blocker interference detected!
Wikia is a free-to-use site that makes money from advertising. We have a modified experience for viewers using ad blockers

Wikia is not accessible if you've made further modifications. Remove the custom ad blocker rule(s) and the page will load as expected.