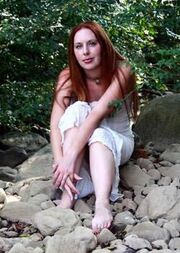 Cherie Priest
— Author 
About the Author
Edit
Cherie Priest
Bio: CHERIE PRIEST is the author of over a dozen novels, including the steampunk pulp adventures The Inexplicables, Ganymede, Dreadnought, Clementine, and Boneshaker. Boneshaker was nominated for both the Hugo Award and the Nebula Award; it was a PNBA Award winner, and winner of the Locus Award for Best Science Fiction Novel. Cherie also wrote Bloodshot and Hellbent from Bantam Spectra; Fathom and the Eden Moore series from Tor; and three novellas published by Subterranean Press. In addition to all of the above, her first foray into George R. R. Martin's superhero universe, Fort Freak (for which she wrote the interstitial mystery), debuted in the summer of 2011. Cherie's short stories and nonfiction articles have appeared in such fine publications as Weird Tales, Publishers Weekly, and numerous anthologies. She lives in Chattanooga, TN, with her husband, a big shaggy dog, and a fat black cat. ~ About Me
Urban Fantasy, Southern Gothic, Horror, ,
Writing Style
Edit
| Series Title | Genre | Supernatural Elements |
| --- | --- | --- |
| Cheshire Red Reports series | UF | Vampires, shady government agencies, mad scientist, secret experiments, witch, magical relic, Men in Black |
| Clockwork Century Universe | Steam-punk | ravenous undead, zombies, air pirates, criminal overlords, eccentric inventor, heavily armed refugees, , , |
| The Borden Dispatches | hist-UF-hor | Lizzie Borden as vamp-monster hunter |
| | | |
| | | |
To expand the table, in Edit–Visual mode, right-press on a Row of the table or Column (Control-press on a Mac)—choose add Row or Column. Or, in Source Mode: copy-paste rows.
Genre Key: '''UF'''=Urban Fantasy, '''Rom-UF'''=Romantic Urban Fantasy, '''YA'''=Young Adult, '''YA-UF'''=Young Adult Urban Fantasy, '''Noir-UF'''=Noir Urban Fantasy, '''UF-SciFi'''=Urban Fantasy/Sci-Fi, '''UF-Hor'''=Urban Fantasy-Horror, '''SP'''=Steampunk, Hist-UF= Historical Urban Fantasy
Other Writings
Edit
Anthologies:
Freebies:
Cover Artists & Contributors
Edit
~ Source: ISFdb: Cherie Priest - Summary Bibliography
Publishing Information
Edit
Publishers:
Notes & Tid-bits
Edit
See Also
Edit
Category links at bottom of page
External References
Edit
Bibliography / Books:
Series Pages:
Interviews, Guest Posts, Author Commentary:
Articles:
Artist:
Author:
Community, Fan Sites:
Gallery of Book Covers
Edit

•
Ad blocker interference detected!
Wikia is a free-to-use site that makes money from advertising. We have a modified experience for viewers using ad blockers

Wikia is not accessible if you've made further modifications. Remove the custom ad blocker rule(s) and the page will load as expected.