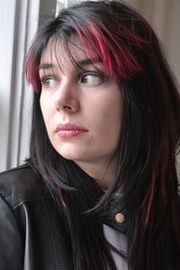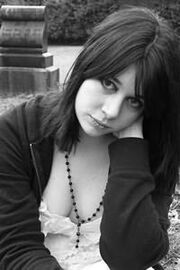 Caitlin Kittredge
– Author
The author's website is closed. 
About the Author
Edit
Caitlin started writing novels at age 13. Her first was a Star Wars tie-in. Fortunately, she branched out from there and after a few years trying to be a screenwriter, a comic book writer and the author of copious amounts of fanfiction, she tried to write a novel again. Her epic dark fantasy (thankfully) never saw the light of day but while she was struggling with elves and sorcerers she got the idea of writing a story about a werewolf who fought crime. Two years and many, many drafts later, she pitched Night Life to a bevy of agents and one of them, Rachel Vater, sold the series to St. Martin's. Caitlin collects comic books, print books, vintage clothes, and bad habits. She loves tea, loud music, the color black (especially mixed with the color pink) and ghost stories. She can drive a stick shift, play the violin and knows more English curses than American ones. Caitlin lives in Olympia, WA with two pushy cats. ~ Goodreads | Caitlin Kittredge
Caitlin Kittredge is the author of the Nocturne City and Black London series, as well as several short stories. She started writing novels at age 13, and after a few years writing screenplays, comic books and fan-fiction, she wrote Night Life, her debut novel. She is the proud owner of an English degree, two cats, a morbid imagination, a taste for black clothing, punk rock, and comic books. She's lucky enough to write full time and watches far too many trashy horror movies. She lives in Olympia, Washington. ~ Caitlin Kittredge | Macmillan
Series Title
Sub Genre
Supernatural Elements
Black London series
UF
Mases, demons, 

Paranormal PI, Ancient Spirit, Zombies, spirits, faeries, Hell, ghosts, witch hunters, Armageddon,

Nocturne City series
UF
Werewolves, shifters, black magic, Were-wendigo, demon underworld, black magician
Hellhound Chronicles series (NEW 2014)
UF
Reapers, demons, gangsters, Lilith,
Iron Codex series
Dys-YA / Steampunk
To expand the table: in Edit–Visual mode, right-press on a Row of the table (Control-press on a Mac)—choose add Row.
Genre Key: UF=Urban Fantasy, RUF=Romantic Urban Fantasy, Noir-UF=Noir Urban Fantasy, YA-UF=Young Adult Urban Fantasy, UF-SF=Urban Fantasy/Sci-Fi, UF-Hor=Urban Fantasy-Horror, PA-UF=Post-Apocalyptic-UF, Dys-UF=Dystopian Urban Fantasy, Mil-UF=Military-Urban Fantasy, SP=Steam Punk, PNR=Paranormal Romance
Other Series
Edit
Iron Codex series: (Dystopian Young Adult / Steampunk)
The Iron Thorn (2011)
The Nightmare Garden (2012)
The Mirrored Shard (2013)
SETTING: set loosely in 1950's New England and describes old-fashioned values about good breeding and what it means to be a proper young lady. - See more at: storysnoops.com
Other Writings
Edit
Anthologies:
Cover Artists & Contributors
Edit
Publishing Information
Edit
Publishers:
See Also
Edit
External References
Edit
Bibliography / Books:
Series Pages:
Interviews:
Reviews:
Articles:
Author:
Community:
Ad blocker interference detected!
Wikia is a free-to-use site that makes money from advertising. We have a modified experience for viewers using ad blockers

Wikia is not accessible if you've made further modifications. Remove the custom ad blocker rule(s) and the page will load as expected.