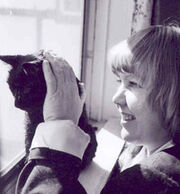 C. T. Adams — Author (now a solo author)
About the Author
Edit
C.T. Adams: Also known as Cat Adams, a dual-partnership writing team with Cathy Clamp.
Cie (C. T.) has since gone solo.
She spent seventeen years in the Denver metro area and now resides in Texas with a large dog and pet cats. Office work provided a living while she pursued the goal of becoming a novelist. Forming the partnership with Cathy Clamp was the catalyst that led to publication and the two have enjoyed a long and fruitful collaboration, with two series published within the Tor Paranormal Romance line: The Sazi, and the Kate Reilly/Thrall books. In addition they have authored stand-alone novels and participated in several anthologies. Working both as a team with Cathy and individually, Cie plans to be involved in writing novels for years to come. ~ Goodreads | C.T. Adams
Urban Fantasy, PNR (on the UF side)
Writing Style
Edit
| Series Title | Genre | Supernatural Elements |
| --- | --- | --- |
| Blood Singer series | UF | Vampires, mages, werewolves, psychic, sirens, bats, nulls, demons, clairvoyants |
| Fae series | UF | Fae — NEW! (C.T. Adams) |
| A Tale of the Sazi (8 books) | PNR | |
| Thrall (3 books) | PNR | |
| | | |
To expand the table, right-press or (Control-press on a Mac)—choose add row.
Other Writings
Edit
Anthologies:
Freebies:
Cover Artists
Edit
Thrall series:
Publishing Information
Edit
Publishers:
See Also
Edit
Category links at bottom of page
External References
Edit
Bibliography:
Series Pages:
Interviews:
Reviews:
Author:
Community, Blogs, etc:
Gallery of Book Covers
Edit
Ad blocker interference detected!
Wikia is a free-to-use site that makes money from advertising. We have a modified experience for viewers using ad blockers

Wikia is not accessible if you've made further modifications. Remove the custom ad blocker rule(s) and the page will load as expected.